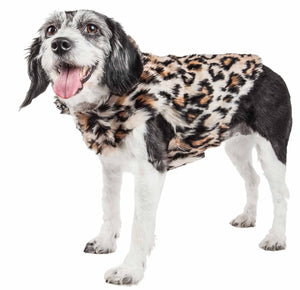 Pet Life ® Luxe 'Lab-Pard' Dazzling Leopard Patterned Mink Fur Dog Coat Jacket
The Pet Life ?? LUXE 'Lab-Pard' Fur Mink Dog Coat Jacket features a striking Caramel and Light Brown Leopard Pattern that stretches throughout the body with a beautifully accented faux-fur collar that is smooth and soft to the touch. Features Tough-Grade across-the-body Velcro Belly Enclosures for convenient on and off access and a leash slit below the Neck line. This jacket is part of our Pet Life ?? Luxury collection. Available in Multiple Sizes.
SIZING SPECIFICATIONS: In (Inches) "Back" Length is from Neck to Tail: * See image chart for sizing approximation.
EXTRA SMALL: Back: 9.1" Chest: 17.3" Neck: 12.2"
SMALL: Back: 11" Chest: 21.3" Neck: 13.8"
MEDIUM: Back: 13.8" Chest: 24.4" Neck: 15"
LARGE: Back: 18.1" Chest: 29.9" Neck: 16.9"
EXTRA LARGE: Back: 22.8" Chest: 35.4" Neck: 18.9" .